Sundays: Coffee, Conversation and Connection at 9:00 am in Prayer Room To be announced
Social Justice Speakers

Please join us to learn more about the Social Justice Committee priority issues of healthcare, climate change/environment, and race and social justice.

Wednesday, January 23: following our potluck at 5:30 pm, Dr. Ned Grossnickle who will talk about Climate Change.
​ Tuesdays: Men's Bible Study: Every other Tuesday evening at 6:00 pm at Amber Grill
January 22: Genesis 37-40
February 5: Genesis 41-44
February 10: Genesis 45-50 First Tuesday of Each Month: Senior's Breakfast Club: The first Tuesday or the month approximately 12-16 senior citizens meet at nine o'clock a.m. for breakfast at the Park Ridge Cafe on Church Street. There are those who are single or have spouses--it makes no difference. We spend an hour with prayer, sharing, making new friends, and just having fun! Dorothy Tiede has been leading this group for the past eight years and generally brings special stories, jokes, and bits of wisdom. All are Welcome!Women's Book Club: Thursdays at noon in the Fireside Gathering Space. Current book is Inspired by Rachel Held Evans.

Powered by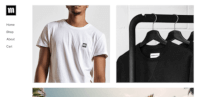 Create your own unique website with customizable templates.