The Faithful Spy by John Hendrix
This graphic novel tells the story of the life of Dietrich Bonhoeffer. Dietrich was a German Lutheran theologian who struggled with what to do to stop Hitler's campaign of horror in the 1920s and 30s. This is a graphic novel, so some of the type is smaller and may be difficult for some to read---but it is a compelling and fascinating story. This is also a good novel for young adults (middle school/high school) as well as adults of all ages. Use your Amazon Smile account for either church to purchase it.
---
---
Life Together by Dietrich Bonhoeffer
Life Together is an exploration of what it means to live together as a community of faith. This is written by Dietrich Bonhoeffer and serves the church as a classic and thought-provoking look into the blessings and challenges of living together in unity, but not requiring uniformity. Considering using your Amazon Smile account from either church to purchase a copy.
---
Powered by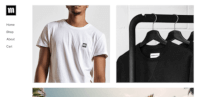 Create your own unique website with customizable templates.